MaD (Mike and Daugthers)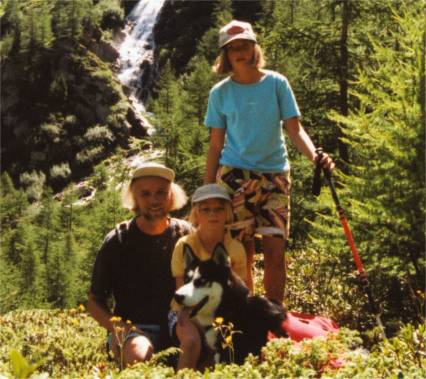 This homepage was designed by Michael Ullmann, one of the founders of MaD.
Sorry, I'm not a designer, and this is one of my first efforts to create a homepage. In case I should have a lot of time, I'll try to make our homepage more 'fetzig' (wild).
With the Sitemap you can get an overview about all articles.


About MaD

Hobbies

Purpose

Known rivers

Pictures

Contacts

About MaD
Mike and Daughters. (also called the4us)
The 4 Us, I, Mike, my 3 'Grazien' (graceful women), my wife Diethild and our daughters Veronika and Konstanze, and since November 1999 our Husky Unora live in the lovely Bavarian city
Grafing
at the Attel beach.
I often call Grafing the secret capital of Bavaria.
:-)
With a click on
this link
you can see where we are living.
I develop hard- and software and sign my
private developed products
with
MaD
, so
MaD
is the sign of my high quality products.
;-))
Back to start

Hobbies
All MaD-Women love horse riding. Diethild is riding since her youth, stopped it the last years because her highest purpose was to educate our kids. Veronika started riding in 1997 and Konstanze, who loves horses most of all, began riding in 1998.
All MaD's love the mountains (more or less), walking and skiing. In former days I climbed mountains, but since 1986 my great love are the white waters in the mountains.
The 4Us are making the most journies with their van and bikes. We want to see the nature and are interested in culture and history. So we normally don't stay a long time at the same place. The MaD's are gypsy-like.
Back to start

Purpose - Kayak
The background of this homepage should be to show what the 'members of MaD' are doing in their leisure time.
Especially I want to contact other European kayakers with this homepage. I'm looking for information about European rivers.
Every kayaker has the same problem. He sees an unknown river and says 'marvellous'. But now the 'problem' starts: he doesn't know anything about this river! He has a kayak-guide (some like the DKV-Fuehrer) but his experience says that there may/must/can be something wrong. My friends and I often had this problem.
My wish is to know kayakers all over Europe, which I could contact to get informations about their (local) rivers. And the cheapest and fastest way to contact other people is via e-mail. I don't look for a guide, even though I allways have fun to meet other kayakers.
Primary I am looking for informations like:
What are the difficulties, known dangers etc.

What's about the water level

Where can we sleep
I would appreciate to contact a few other kayakers before the next journey starts.
A good institution would be a public database which is kept on time by kayakers. An 'on time, on line guide'. But who can/wants to keep this database in a good condition? A good location for this database could be the
AKC-
or
DKV-
homepage or a well known
outfitter
.
If you like you can read short German stories about kayak dangers and the
kayak-virus
.
Back to start

Known rivers
This is not a description of the rivers I know, this is only an unalphabetical list of the most rivers I went with my friends. Some names contain a hyperlink to a short German discription with pictures (signed with(D)) or only one picture.
Remember:
Every Picture is a JPG with a size between 70 and 100 KB (768*512 or 512*768). In a discription you can select the pictures via thumbnails.
If you want to know more about one of these rivers contact me per
e-mail
!
In the
gallery
you can find more pictures.
Back to start

Pictures
| | | | | | |
| --- | --- | --- | --- | --- | --- |
| 3 Grazien | MaD on skis, 1997 | and 2002 | Carnival | Secret | 3 Gamblers on tour |
Back to start

Contacts



Last update: